We're taking every precaution necessary to stay safe and follow necessary protocol here at Video Dimensions. We can assure our clients of the following in regards to our crews:
All personnel have been or will be tested for Covid-19 on a regular basis, especially if it's required for a particular shoot.
Any crew member we hire will have completed the Safe Sets COVID-19 certification course for the Film and Video Production Industry.
In addition, each member will be asked to self-assess themselves by our Video Dimensions guidelines, as well as the Mayo Clinic's self-assessment test.
Here are specifics to how we're handling production in studio, out in the field, and in a virtual setting.
Studio Production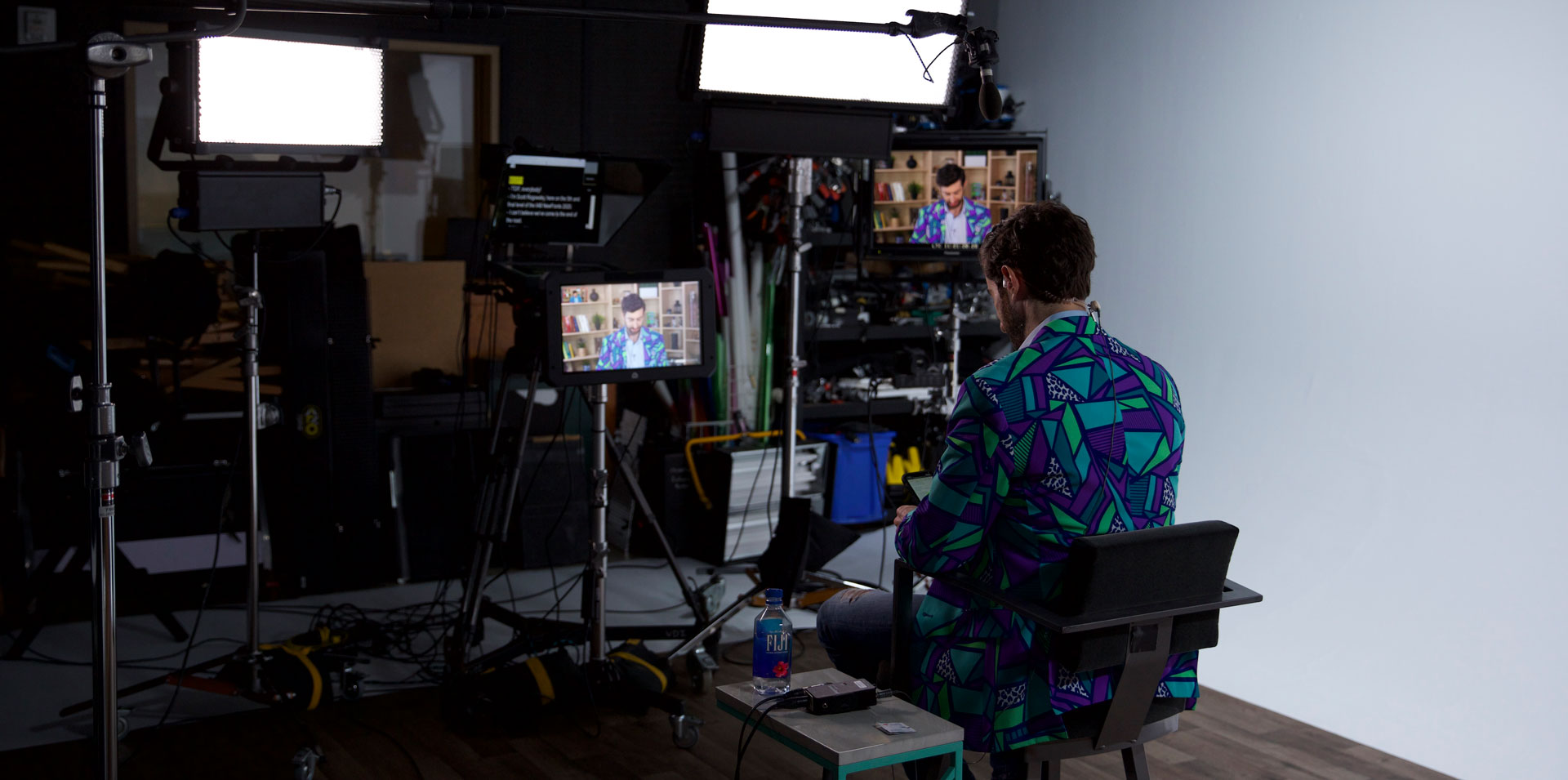 Our requirements for anyone working in our studio are:
Have your temperature taken upon arrival each day, as well as twice more throughout the course of a workday.
Masks are mandatory and to be worn at all times.
Social distancing at a minimum of 8 feet to be maintained.
We have a sanitation area that includes plenty of PPE – masks, gloves, shoe coverings, hand sanitizer, a sink to wash your hands in throughout the day.
Anyone in close contact with talent – audio techs, makeup artists, etc. – must wear gloves and masks/face shields.
Only necessary crew are permitted in the studio while filming. Most crew will be able to perform their jobs or monitor the shot outside of the studio.
The entire facility will be sanitized each night and maintained during the course of the day as needed.
We're using MERV-13 class filters in our air conditioning units for enhanced filtration in our space, increased fresh air flow, and reduction in the indoor spread of germs.
Field Production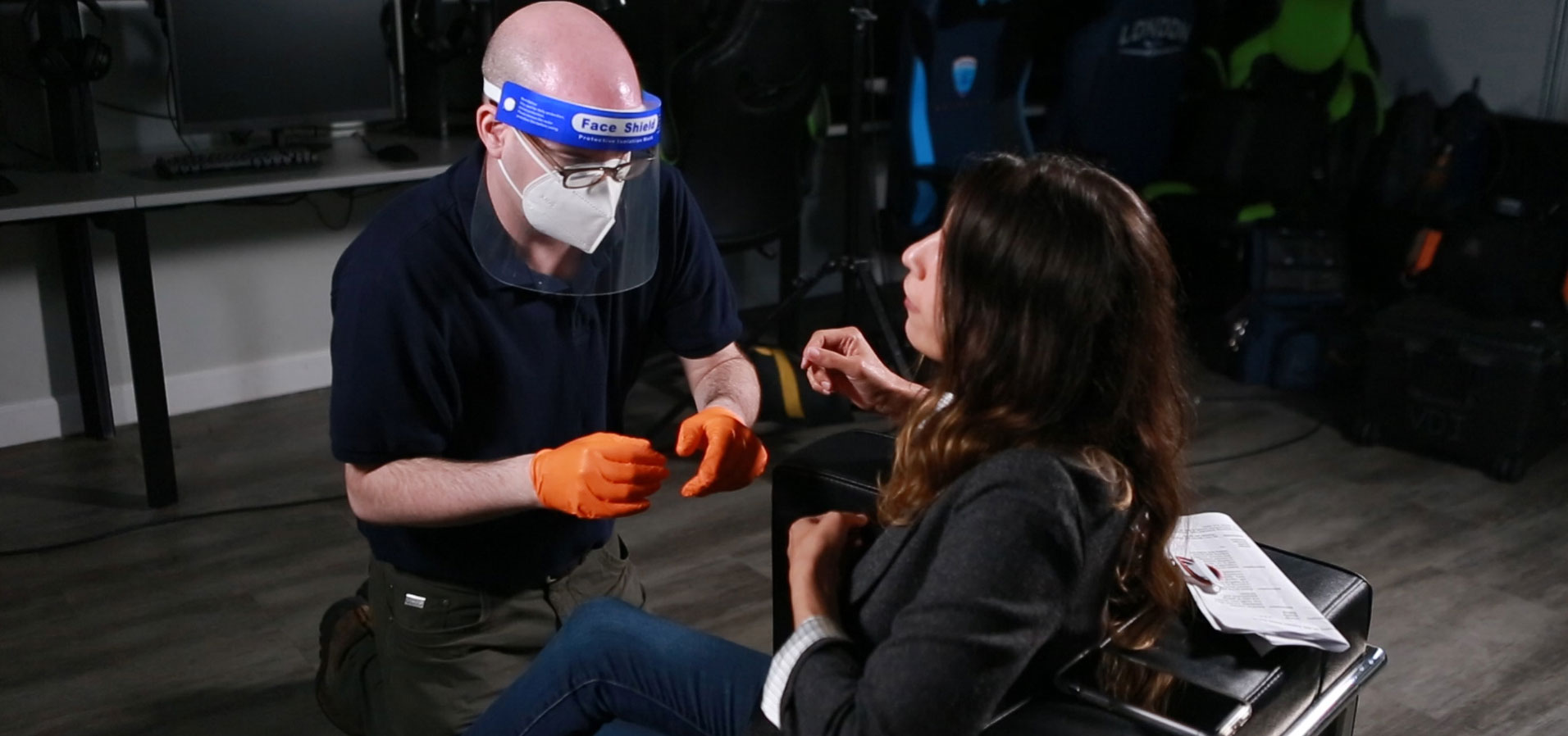 Our requirements for our crews working out in the field are:
Have temperature taken upon arrival at VDI. Any crew reporting directly will have temperature taken upon arrival at location.
All gear to be used for the shoot will be sanitized before going out into the field.
Crews will be given a PPE Field Pack that includes an electronic thermometer, mask, gloves, shoe coverings and hand sanitizer.
Majority of crew will travel to and from location separately to maintain social distancing.
Set up and break down will occur while talent is not on set.
When production begins, all non-essential personnel will be asked to vacate to another room and watch on a monitor.
Producers and prompter will be asked to work remotely unless their presence on set is absolutely necessary.
Virtual Production
If Covid-19 has taught us anything, it's that the best way to stay safe is to stay home and work remotely whenever possible. We believe that a mix of virtual and on-site methods of production is ideal to have a safe and successful shooting environment. Here are some steps we've made to simplify this process:
We have devices that are able to take an HD video signal from our professional cameras with embedded audio and feed it into a computer to be recognized as its webcam and microphone. This allows clients, producers, and prompter operators to monitor a shot through Zoom or Skype from their own home.
Our control room here at VDI is outfitted to take multiple feeds from multiple sources into our Tricaster or switcher. We can then record that switched program and/or send it out to any webinar or live feed for viewing.
Any crew we send out into the field is able to send their video signal with embedded audio to our control room for use in your production.
We now use a Unity Intercom system. It's an app that can be downloaded on your phone, tablet or computer. We provide the settings and login information, and you have multiple channels to communicate with your team and ours, no matter where any of us happen to physically be.